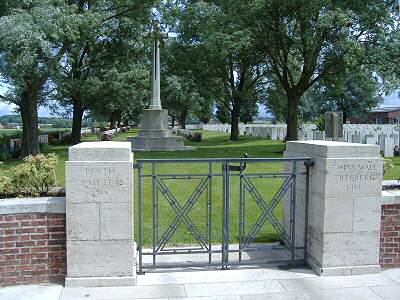 Perth Cemetery (China Wall), near Ieper)


NEWS ITEM in Jersey Evening Post of Wednesday 16 December 1914
A Jerseyman Missing. Mr & Mrs Jouguet of Kensington Place received the information yesterday that their son Harold Jouguet, a Private in the Northamptonshire Regiment has been missing since 24 October. We hope they will receive reassuring news ere long.
NEWS ITEM in Jersey Evening Post of Thursday 30 March 1916
Roll of Honour. Mr J Jouguet of 17 Kensington Place has received a letter from the Records Office at Warley in which they state that as no news has been received of his son, Harold Wilfred Jouguet, of the Northampton Regiment, since 24 October 1914, the Army Council has been regretfully constrained to conclude that he was killed on that date. Enclosed in the letter was a note of sympathy from the King and Queen with Lord Kitchener's signature.
NEWS ITEM in Jersey Evening Post of Monday 4 December 1916
Roll of Honour - Two Years a Prisoner of War. Since the outbreak of hostilities in 1914 Mr Jouguet of 17 Kensington Place has been without news of his son Harold, a Private in 1st Northamptonshire Regiment, and several letters from the War Office in reply to enquiries made stated that he was missing and though he possibly might be a prisoner of war in Germany no intimation to that effect had been received. We now learn that after 2 years Mr Jouguet has received information through the medium of the Geneva Red Cross Society that his son, Private Harold Jouguet, had been a prisoner of war in Wienderft Camp and that he died last month and was buried in a cemetery nearby. The facts have been fully reported and it is hoped that fuller details will be forthcoming. We offer our sincerest condolences to the family who have received such a terrible blow.