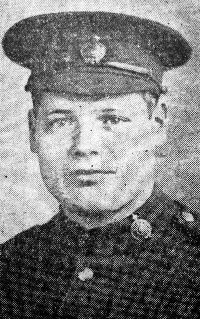 Private Albert Caton Jourdan
54th Battalion, Canadian Infantry (Central Ontario Regiment)
08/08/1918
Son of the Rev. P. A. and Mrs. Ellen C. Jourdan, of 82, Roslin Avenue, Toronto. Reverted from the rank of Sgt. in order to reach France.

Killed in action, aged 25 years
NEWS ITEM in Jersey Evening Post of Wednesday 4 September 1918 Roll of Honour.
It is with regret we chronicle the death which has taken place in action in France of Private Caton Jourdan of the Canadians. The deceased soldier was a son of Reverend Philip Jourdan of Ontario and a nephew of the late Mr L P Jourdan and Mrs Jourdan of Grace Cottage, Ann Street. He was in his 26th year and was amongst the first volunteers to answer the call of the Motherland at the outbreak of hostilities in 1914. We tender the bereaved family our sincere sympathy.

Notice of Death appears in Jersey Evening Post of Wednesday 4 September 1918
NEWS ITEM in Jersey Evening Post of Tuesday 14 November 1916
A Canadian Visitor. We were more than delighted yesterday to receive a visit from Sergeant Albert Caton Jourdan of 157th Battalion Canadian Infantry. Sergeant Jourdan, whose Battalion is in training in England, is a son of the Reverend Philip A Jourdan of Toronto, a Minister of the Methodist Church, and a grandson of the late Mr Jourdan of First Tower. Sergeant Jourdan hails from Ontario and though he was a student for the Ministry, he at once joined the dominion forces when the need of the Empire for fighting men was realised. We wish Sergeant Jourdan the best of luck and a safe return home.
Commonwealth War Graves Commission Record