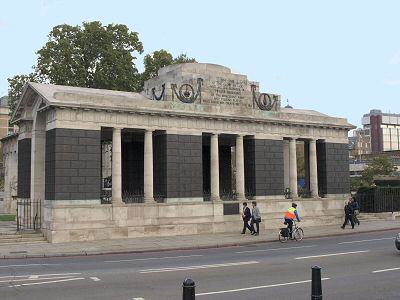 Tower Hill Mercantile Marine Memorial, London

H.M.H.S. "Dover Castle"
She was torpedoed by the German U-boat UC-67 on 26 May 1917, while 50 miles (80 km) north of Bône on passage from Malta to Gibraltar. The initial explosion killed seven boiler stokers but the crew was able to evacuate the wounded onto HMS Cameleon. The captain and a small crew tried to save the ship but she was hit by a second torpedo an hour later, and sank in three minutes at 37°45'N 7°45'E.

Trimmer William George Kentchen
Mercantile Marine. H.M.H.S. "Dover Castle" (London)
26/05/1917
Son of William and, Jersey born, Phyllis Kentchen. Husband of Nellie Kentchen (nee Allen), of 21, Bedford Place, Southampton. Born at Southampton.
Killed, aged 29 years
Commonwealth War Graves Commission Record