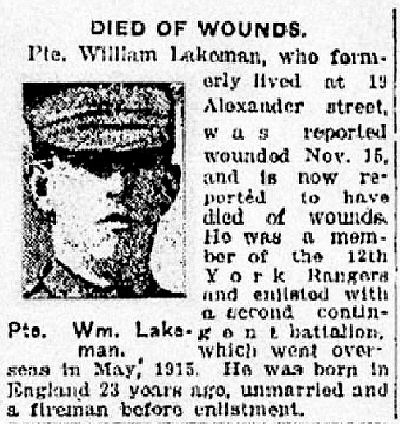 Private William James Lakeman
20th Battalion, Canadian Infantry (Central Ontario Regiment)
01/11/1917
Born at Jersey. Son of Mrs J J Lakeman of St Helier, Jersey.

Killed in action, aged 25 years
Notice of Death appears in Jersey Evening Post of Tuesday 13 November 1917
NEWS ITEM in Jersey Evening Post of Wednesday 7 November 1917
Roll of Honour. We regret to learn of the death on the field of battle of Private William James Lakeman of the 2nd Canadians, who was killed in action on the French front on 1 November. The deceased soldier, who was in his 24th year, was the second son of the late Mr E H Lakeman and Mrs Lakeman of 8 Chevalier Road. He left Jersey for Canada some 4 years ago and joined up with the Canadian Forces as soon as the call came for volunteers and has been over 2 years at the Front. He was in Jersey last August when he came to pay a visit to his mother and other members of his family. The news of his death was received in the Island yesterday, the letter conveying the information stating that he had been interred in the Lijssenthoek Military Cemetery. To the sorrowing mother and the other members of the bereaved family we tender our respectful sympathy.