St Sever Cemetery Extension, Rouen.
Son of Thomas & Nancy Langlois (nee Robert) of St Peter's, Guernsey. Husband of Jersey born Jane Lillian Maud Gosselin of 52 New Street, St Helier, Jersey. Enlisted at Jersey.
Died of wounds, aged 38 years.
NEWS ITEM in Jersey Evening Post of Saturday 15 June 1918
Roll of Honour. We regret to state that Mrs Langlois of 52 New Street has received telegraphic information that her husband, Private G E Langlois of the Dorset Regiment, died at the 9th General Hospital in Rouen on 11 June of severe gunshot wounds to the leg. The deceased loyal soldier was 39 and volunteered for service overseas in Guernsey in 1914 and had been previously wounded on six different occasions. We tender the widow our heartfelt sympathy.
NEWS ITEM in Guernsey Press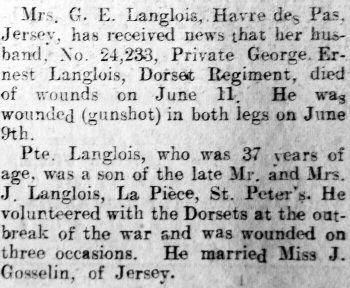 Commonwealth War Graves Commission Record