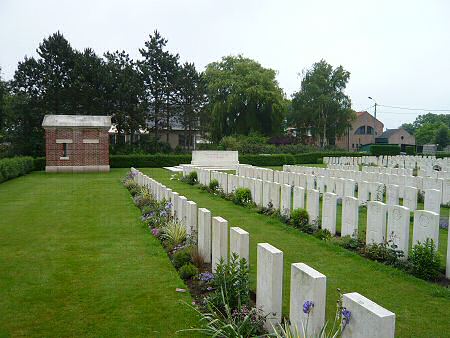 Duhallow ADS Cemetery, near Ieper
NEWS ITEM in Jersey Evening Post of Saturday 16 September 1916
More Casualties in the Royal Irish Rifles. The list of casualties in the Jersey Contingent which we have published during the last few days and from names which still continue to come through show that the gallant Jerseys were in the thick of the fighting in the Great Push. Sergeant C Laugeard, a former police constable, is another local lad who has been wounded recently.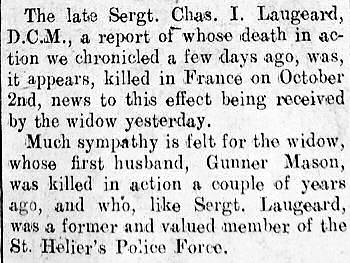 JEP, 2/10/1918
NEWS ITEM in Jersey Evening Post of Saturday 20 January 1917
Sergeant C Laugeard DCM - Public Presentation Tomorrow. Tomorrow at 8.30pm at the Town Hall a public presentation of a gold watch will be made to Sergeant C Laugeard of the Jersey Company Royal Irish Rifles, who was recently awarded the Distinguished Conduct Medal. The gallant Sergeant was, until he volunteered for active service, a member of the Paid Police and this body and the St Helier Fire Brigade will parade in full force to do honour to the hero. NCOs and men of the Royal Irish Rifles and all other military men in the Island are specially invited to attend, whilst it is hoped that the general public will be present in large numbers.
NEWS ITEM in Jersey Evening Post of Monday 22 January 1917
Presentation to a Jersey Police Constable DCM - Huge Crowd Honours the Gallant PC. The Town Hall was filled to overflowing last evening when Sergeant C Laugeard, Royal Irish Rifles, a member of the Jersey Police Force who, leaving here with the Jersey contingent in March 1915 and who has won the coveted Distinguished Conduct Medal, was made the recipient of a gold watch by his fellow Islanders. The gathering was fully representative in character, including as it did prominent tradesmen and residents. Members of the Police Force lined the staircase and between their ranks the Constable with Sergeant Laugeard passed into the hall, cheers being raised for the gallant Sergeant as he passed up to his seat on the platform. The Constable opened the proceedings calling upon Deputy J Cory of St Helier to speak. Deputy Cory said that he considered it an honour to add a tribute to one of Jersey's brave sons at the biggest assemblage he had ever seen at the Town Hall. Sergeant Laugeard, as a Police Constable, had been a tip-top one and he felt he was speaking for the whole Force when he said they were pleased that their old comrade had distinguished himself on the field of battle - he had volunteered to go, he had not waited to be pushed and they were deeply grateful to him for what he had done. He thought that all Jerseymen were convinced in their minds that the Germans had to be beaten and would do their utmost to bring about the great, though delayed, victory which had to come. He wished to offer congratulations to Sergeant Laugeard on his splendid achievement. The Constable then spoke as follows "Mr Dean, Ladies and Gentlemen, we are again assembling here this evening after 2 years & 5 months struggle to honour another of our brave fellow Islanders and personally tonight's ceremony gives me especially great pleasure as the hero we are called upon to honour belongs to the Police Force and I am sure his colleagues are also very proud of him. Charles Laugeard joined the Police Force on 10 March 1912 and 3 years later, that is in March 1915, he answered his Country's call. After training in Ireland he proceeded to France with 7th Battalion Royal Irish Rifles and served 10 months at the Front. Laugeard almost at once became under the notice of his immediate superior officers for the marked courage he displayed. May I here also render homage to the memory of a valiant and brave soldier who belonged to the Royal Irish Rifles who by his valour and numerous deeds of bravery would, if he had been spared, have been awarded a Distinguished Conduct Medal if not a Victoria Cross, the last that was seen of this soldier was in the enemies trenches fighting against great odds, I refer to Stephen Brint, he has given his life for his Country, no man could do more. The prowess of Laugeard was so quickly recognised that when bombing parties were formed he was chosen to take part in them and his intrepidity and powers of leadership soon gained for him the rank of Sergeant Bomber. In August 1916 he was awarded the Divisional Parchment for the gallantry he displayed in destroying a machine gun which was cleverly concealed and which in consequence was doing great damage in our ranks. Laugeard was chosen to head a party whose duty it was to silence the gun, he and his party crawled to the German trenches under cover of darkness, and before they returned they had smashed the gun and killed all the gunners. The special act of bravery for which Sergeant Laugeard has been awarded the Distinguished Conduct Medal is for the manner in which he led a certain important attack at Givenchy, at the same time keeping up the supply of bombs and generally displaying great courage which under the horrific conditions of the moment was an almost superhuman task. As Sergeant Bomber Laugeard's motto is "Come On Follow Me" he is always first over the top into no mans land, and his fine example inspired all those with whom he came into contact. It is common knowledge, learned from soldiers home on leave, that Laugeard's vocabulary contains no such word as fear and that his acts of bravery were the admiration of his comrades, many of whom are emphatic in stating that he has won the DCM several times over. On 9 September our hero received a bullet wound in the right breast, but he is as tough as he is brave and judging by the man we see before us this evening he seems to have thoroughly recovered and is again fit to do more useful work. Sergeant Laugeard, it is now my pleasing duty to present you, on behalf of the inhabitants of your native Island, with this gold watch as a memento of your gallant acts of bravery". The Constable, amid applause, then handed the watch to the recipient and concluded his speech by saying "may your life be spared and may you, in years to come, remember with pleasure and pride this evening's proceedings. I am only voicing the feelings of every Jerseyman and Jerseywoman when I say we are all proud of you". Sergeant Laugeard, after the applause had subsided said that he was not the only one in the Jersey Company who had deserved the Distinguished Conduct Medal, every man in the Company had won that distinction, if not the VC, they had all fought with their hearts and had all done well. On the call of Deputy John Cory cheers were then given for Sergeant Laugeard, the members of the Jersey Company Royal Irish Rifles, for the King, Empire and Victory and the proceedings concluded with the singing of the National Anthem.