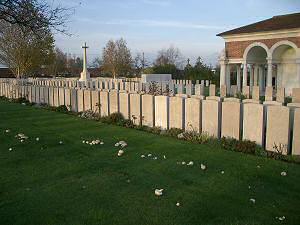 Bethune Town Cemetery
Second son of Mr. and Mrs. Edward J. Laurens, formerly of 3, St. Saviours Rd., St. Helier, Jersey.

Died of wounds, aged 21 years
Notice of Death appears in Jersey Evening Post of Friday 7 January 1916
News Item in Jersey Evening Post of Saturday 8 January 1916

Roll of Honour - Samuel John Laurens. As will have been seen by a private notice in yesterdays issue yet another Jerseyman has made the supreme sacrifice viz Samuel John Laurens, the second son of ex-Deputy E J Laurens and Mrs Laurens, formerly of 3 St Saviours Road and now of Plymouth. The deceased who was in his 22nd year held a good position in a London Bank when he loyally responded to the call and joined a London Regiment. He had been out at the Front for some months and in the closing days of the year was seriously wounded in the leg. It was hoped that amputation would save the young soldiers life but this proved not to be the case and he passed away as a result of his wounds on New Years Day. Much sympathy will be felt for the parents, who, however, have the consolation that their son died a true hero's death.