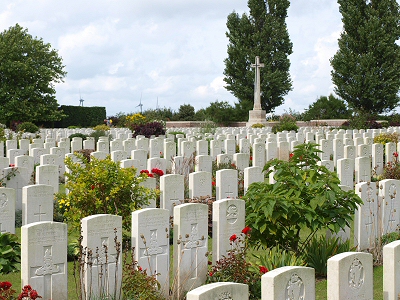 New Irish Farm Cemetery, Ieper
Killed in action


NEWS ITEM in Jersey Evening Post of Thursday 24 June 1915
Roll of Honour. Mr F Whistler, Head Master of St Pauls Elementary School, received news yesterday of the death at the Front on 12 June of an old pupil, Private William Laurens, whose mother now resides in London, and who had enlisted there at the outbreak of war. Private Laurens was at the time on fatigue duty and was helping to repair a trench when a bullet passed through his right arm into his body, death occurring three minutes afterwards. This is the sixth Old St Pauls Boy to be killed since war broke out.
NEWS ITEM in Jersey Evening Post of Thursday 24 June 1915
Roll of Honour. Private William Laurens formerly of the 2nd Company of the 2nd Battalion London Regiment was some days ago killed at the front. The deceased was a member of the staff of Harrods Stores and on the call for volunteers at once joined the forces. He was first sent to Malta with his Battalion which was subsequently recalled and sent to Flanders where, according to a letter received by a friend of his in Jersey a couple of days ago written by a comrade, he was killed while facing the enemy in the trenches. Mr Laurens when in Jersey was in the employ of Messrs A de Gruchy & Co and was one of the most popular members of that firm. He was a member of the St James Church Choir and also a member of the Jersey Musical Union band. Much sympathy will we feel sure be felt for the sorrowing members of his family and his many friends thus bereaved.