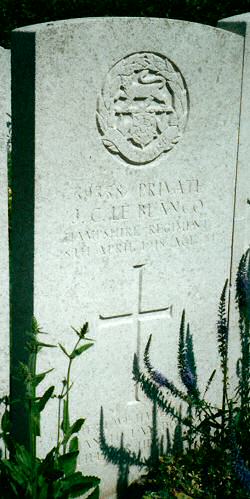 Private John Cyril Le Blancq
1st Battalion Hampshire Regiment
28/04/1918
Only son of John S. and Louisa J. Le Blancq, of 14, Ann St., St. Heliers, Jersey. Born at St. Saviour's, Jersey.
Died of wounds, aged 22 years.
Commemorated on family memorial in Mont a l'Abbe Cemetery, Jersey
Old Boys of St James' Company Boys Brigade Memorial, Jersey

Notice of Death appears in Jersey Evening Post of Monday 6 May 1918

NEWS ITEM in Jersey Evening Post of Wednesday 26 March 1919
Memorial to Gallant Jerseyman. The past and present members of the St James' Lads Club have subscribed for a processional cross in memory of one of their members, John Cyril Le Blancq of the Hampshire Regiment, who died of wounds on 28 April 1918. The cross was designed by Mr T D Atkinson of Cambridge, recently appointed Consultant Architect in Winchester Cathedral and College, and is of beaten iron outlined in black. The whole conception is beautiful in its simplicity and its suggestion of sacrifice. The late soldier, it will be remembered in addition to being a member of the St James' Club was a Lieutenant in the St James' Boys Brigade and also a highly respected member of the printing staff of this journal. The Vicar of St James in announcing the gift to his parishioners states "Jack Le Blancq had a quite wonderful gift for loyalty, to his Church, his friends and, most wonderful in these days, to his employer. His influence has not ceased but seems stronger than ever and the memory of his unselfishness, loyalty and fearlessness in speaking out for what he knew to be right has left a strong impression upon the other members". The processional cross will, we understand, be used for the first time at the outdoor service on Good Friday.
NEWS ITEM in Jersey Evening Post of Monday 14 April 1919
Dedication of a Cross. At St James' Church last evening the service concluded with the dedication of a processional Cross given in memory of the late Private John Cyril Le Blancq of the 1st Hampshires, formerly a Server at St James' and a member of the Evening Post printing staff who died of wounds in France in April of last year. The inscription on the Cross reads as follows: "To the glory of God and in loving memory of John Cyril Le Blancq (Server) who died of wounds in France on 20 April 1918. If any man will come after Me let him take up his Cross" Following the dedication the Vicar gave an eloquent and impressive address to a large congregation

Commonwealth War Graves Commission Record