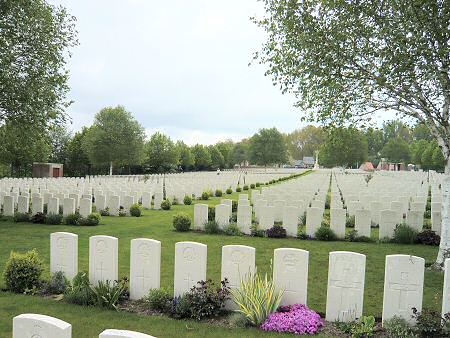 Hooge Crater Cemetery, Ieper
Notice of Death appears in Jersey Evening Post of Monday 24 February 1919


NEWS ITEM in Jersey Evening Post of Thursday 6 December 1917
Jersey Soldiers Reported Missing. November 6 proved an unlucky date for the Jerseymen in the Hampshire & Duke of Cornwall's Light Infantry Regiments for in addition to the local lads who were killed, wounded, or reported missing during the fighting on the above date, the following casualties are also officially pronounced missing Private George Le Cocq of The Crown, St Martins and Private C W Le Maistre youngest son of Mr & Mrs P D Le Maistre of 15 James' Street, both serving with the Duke of Cornwall's Light Infantry. We hope to shortly hear favourable news of both soldiers.
NEWS ITEM in Jersey Evening Post of Saturday 5 October 1918
Roll of Honour. After many moths of anxiety Mr & Mrs F Le Cocq of Crown House, St Martins have received official information that their youngest son, Private George Le Cocq of the Duke of Cornwalls Light Infantry, who was reported missing somewhere in France on 6 November 1917 is now presumed to have been killed on that date. The deceased gallant soldier, who was in his 24th year, was well known and highly respected locally, he having been a shoemaker at Crown House at the time of joining up. We offer the bereaved family and his fiancee our heartfelt sympathy in their sorrow.