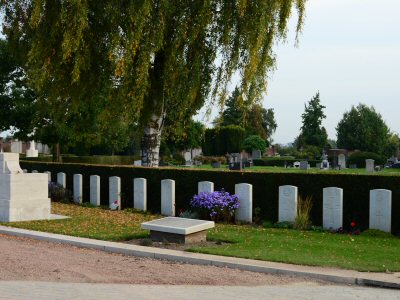 Halle Communal Cemetery, Belgium
Notice of Death appears in Jersey Evening Post of Saturday 4 January 1919

NEWS ITEM in Jersey Evening Post of Wednesday 1 January 1919
A Sad Tragedy - Sergeant Bert Le Dain Accidentally Killed. After passing through 3 years of the warfare in France and being expected to arrive in Jersey almost any day on a well earned leave, it will come as a great shock to the many friends of Sergeant Bert Le Dain to hear that he has been accidentally killed in France.
Mrs Le Dain, who resides at 51 New Bath Street, yesterday received the tragic news in the following letter "Dear Mrs Le Dain, It is with the deepest regret that I have to send you this note to tell you your husband was accidentally killed on the afternoon of 19th December. I was not present at the time of the accident but it appears your husband slipped off the trail of a gun and was run over by a wheel, death being instantaneous. He was with us so short a time but even so had shown himself a most excellent Sergeant and was fast becoming popular with the men. It is very difficult to write letters such as these for I feel very grieved to have lost such a good man and know how sad it must be for you. At a time like this when the fighting is over it seems extremely hard some of us should lose our dear ones, but the One Above knows best. Try hard to bear your loss bravely for the sake of your children. He will be given a military funeral tomorrow. Please accept the deepest sympathy of all his comrades and myself. Yours sincerely, H S GODDEN. Lieutenant RASC".
The late Sergeant, who was close on 40, was a well known mechanic at Thompson & Co and joined the Royal Army Service Corps (Motor Transport) in 1915. As stated previously he had seen considerable service in France since then and the news of his tragic death at the close of hostilities comes as an overwhelming blow to the widow, who is left with two children, and to whom we offer our sincere sympathy.