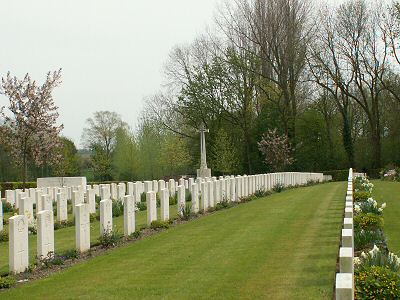 Kemmel Chateau Military Cemetery, Belgium

NEWS ITEM in Jersey Evening Post of Saturday 27 February 1915
Presentation to a Volunteer. On Wednesday evening last Mr W F Le Feuvre, who for the last 10 years has been employed by Mr L Sangan at David Place, was presented by his employer and fellow workers with a luminous wristlet watch on the occasion of his approaching departure as a member of the Volunteer Overseas Contingent. The ceremony was preformed by Mr Sangan and Mr Le Feuvre suitably replied.

NEWS ITEM in Jersey Evening Post of Tuesday 14 March 1916
Sick Jersey Soldiers. No further news has been received as to the condition of the Jersey soldiers Rifleman de la Lande, W Manley, Bert Smith and Lance Corporal Le Feuvre now in hospital

NEWS ITEM in Jersey Evening Post of Saturday 16 September 1916
More Casualties in the Royal Irish Rifles. The list of casualties in the Jersey Contingent which we have published during the last few days and from names which still continue to come through show that the gallant Jerseys were in the thick of the fighting in the Great Push. One of these, Rifleman W F Le Feuvre, has been slightly wounded.

NEWS ITEM in Jersey Evening Post of Wednesday 30 May 1917
Roll of Honour. The mother of Lance Corporal W F Le Feuvre of the original Jersey Company Royal Irish Rifles, who resides at 14 Ann Street, has received the sad news that her son was killed in action on the night of 22 May. Lance Corporal Le Feuvre, who was employed as a tailor in Jersey, served in the Medical Company RMIJ and volunteering left the Island with the original Jersey Company. On arrival in France he was appointed Company Stretcher Bearer and Lieutenant J Craig, the officer commanding the Company, states that he was doing his duty in the front line, dressing the wounded, when he was killed. The officer also states "I have known him since he came to this Battalion and his bravery and cheerfulness were always a great help and his loss is an irreparable one to the Company". The Chaplain of 113th Field Ambulance also writes "I can in some measure understand what this sad news must mean to you - it means much to those who knew him in the Battalion. Always he was brave, straight and noble, one who won the admiration of both officers and men, we can thank God for his fine Christian character which was a help and
remains an influence for good with us". To his mother (Mrs Cardy) and the other relatives we tender our heartfelt sympathy.


Commonwealth War Graves Commission Record