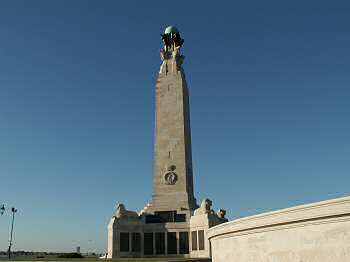 Portsmouth Naval Memorial
Southsea Common
NEWS ITEM in Jersey Evening Post of Tuesday 20 August 1918
The Mined Destroyers - One Jerseyman Killed Another Saved. On one of the two destroyers which the Admiralty stated a few days ago had been mined with the loss of a number of lives, it was known that two Jerseymen were serving, one of these arrived on leave today having been amongst the fortunate survivors. The other Jerseyman, Officers Steward A R Le Gros is officially stated to have been killed. To the relatives, who reside at St Lawrence, we offer our sincere sympathy.

NEWS ITEM in Jersey Evening Post of Saturday 31 August 1918
Roll of Honour. As we stated some time ago Alfred Reginald Le Gros, Officers Steward in the Royal Navy, is officially announced to have lost his life in one of the mined destroyers. The deceased, who was in his 20th year, was an old scholar of the Home for Boys and on leaving school entered the service of the Reverend J A Balleine and from there joined the Royal Navy. We tender the bereaved grandmother and sister our heartfelt condolences.