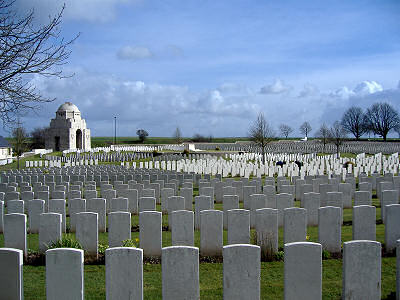 Caberet Rouge British Cemetery, Pas de Calais
Son of John and Jane Le Huquet (step-mother), of 22, Hilgrove St., Jersey.

Died of wounds, aged 26 years
NEWS ITEM in Jersey Evening Post of Saturday 29 May 1915
Roll of Honour - Jersey Lad Dies of Wounds. On Thursday last we published a letter stating that Gunner A Le Huquet of 28th Battery RFA son of Mr & Mrs Le Huquet of 18 Pier Road had been dangerously wounded but that hopes were still entertained of his recovery. These hopes unfortunately were not realised and the sad news of her sons death being communicated yesterday to Mrs Le Huquet by the following letter from Major K Wilmer of the Battery. "It is with the greatest regret that I have to inform you that your son Gunner A Le Huquet died of wounds received in action. He was wounded on 19th and died in hospital on 23rd and was buried in the cemetery of Vieux Chapelle on 24th. I hope you will accept my deepest sympathy in your sad loss. He was a fine fellow, very popular and highly thought of by us all in the Battery. His loss will be felt by all."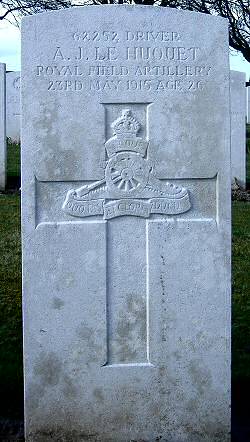 Driver Alfred Joseph Le Houquet
28th Battery, Royal Field Artillery
23/05/1915


1914 Star
Picture courtesy of Mike & Rosemarie Thomas
Commemorated on St Martins Parish Memorial
Commonwealth War Graves Commission Record