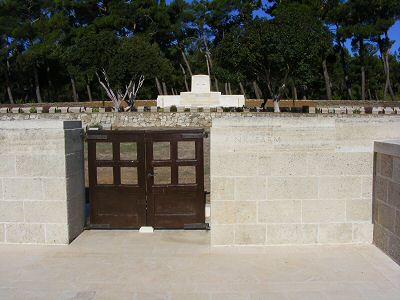 Plugge's Plateau Cemetery, Anzac, Turkey.
Notice of Death appears in Jersey Evening Post of Saturday 10 July 1915

Commemorated on Halkett Place Primary School Memorial


NEWS ITEM in Jersey Evening Post of Tuesday 7 March 1916
How a Jersey ANZAC Died After Being Recommended for DCM. It will be remembered that Mr Jack Le Masurier son of Mr & Mrs Le Masurier of Elizabeth Terrace, Tower Road left for Australia a few years ago and at the outbreak of war joined the Australian Imperial Forces and was unfortunately killed last year in the Dardanelles. Many months have elapsed since the official intimation was received but a letter has now been received by the parents from an Australian who is now in England.
He writes: "I was speaking to one of our chaps a day or two ago and he told me he had been to Jersey and I asked him if he had met anyone of your name there and he said someone had asked him about a young fellow of that name who went to the Dardanelles with the Australians. Now it so happens that Jack Le Masurier was my particular pal right from the time we enlisted in Australia and I was with him to the last. He was killed in action on the evening of 29 May by a shrapnel shell. There was only a small party of us attached to an Indian battery looking after field telephones and doing such work as the Indians could not do as they did not speak English. I can't say how sorry we were to lose Jack as he was one of the best. He was recommended for the DCM for keeping up communication under heavy fire on the morning of 29 May but I do not know if the recommendation ever went through. We buried him at night, the service being read by Major Sykes an Englishman with the New Zealand Battery, on the top of a high headland overlooking the sea at Anzac, the hill is known as Plugges Plateau and was the first place taken in the morning of the Australian landing. He was buried by the side of two of the New Zealand battery killed the same day. Hoping this will relieve any anxiety you may have been under.
GUNNER A J PHILPEY, Australia Base Depot, Weymouth."