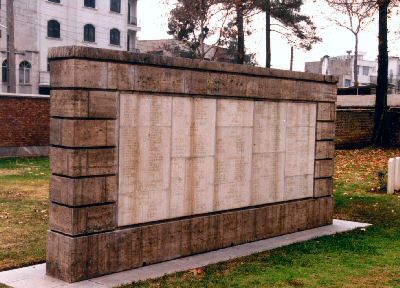 Tehran Memorial, Iran

Commemorated on OV Memorial, Jersey
NEWS ITEM in Jersey Evening Post of Saturday 17 July 1915
The late Lieutenant Le Mesurier. The following letter describing the circumstances in which Lieutenant A C Le Mesurier met his death has been written by a brother officer to one of Lieutenant Le Mesurier's relatives in Calcutta. Lieutenant Le Mesurier who was formerly a member of the Assam Valley Light Horse joined the Indian Army Reserve of Officers in November last. The letter reads: "My dear Mrs …. In going through your brother's papers I discovered that you were his next-of-kin in India and I am writing to tell you about the brave fellow's death and to condole with you in your bereavement. I used to know your brother at Wellington and we often used to talk over our school days together. I was not present in the action in which your brother met his death but I heard all the facts. As you know, perhaps, his Squadron Commander Major Anderson of my regiment was also killed at the same time. It happened like this - one Squadron of the 33rd and one of the 7th were sent out on reconnaissance some 25 miles from camp. They were met by Arabs who pretended to be friendly and warned them that the Turkish Army was only 3 hours march away and to go back. They went back about a mile and watered their horses and stayed there some time. When the Squadron had finished watering the Commander mounted the men and wheeling them about marched them off. A rear guard had been told off and your brother was sent to give them a message to keep much closer to the Squadrons. He galloped off, told the troop leader and started to come back, just as he turned hostile Arabs, who had been collecting around under the cloak of friendliness, opened fire. More mounted Arabs closed in and your brother was hit and fell off his horse. A native officer and three men were there but some were killed and surrounded by some 40 Arabs could not bring his body in and the remainder of the rear guard were cut up. In the meantime the remainder of the two Squadrons were being heavily infilladed and defilladed and were some 1000 yards away and so were unable to help. The next day a strong force of cavalry went out and recovered the bodies. Your brother was buried beside Major M H Anderson (33rd QPO Light Cavalry) and Lieutenant Bailward (26th KGO Light Cavalry) at Brackey some 30 miles from Ahway near the Karun River in Persia. I am sending all his personal belongings to you together with his bearer. I cannot say how sorry I feel over the death of your brother, my schoolmate, and I hope you will accept my condolences although they come from a perfect stranger".
Lieutenant A C Le Mesurier was an Old Victorian and was the fourth son of the late Colonel A A Le Mesurier formerly of St Saviour.