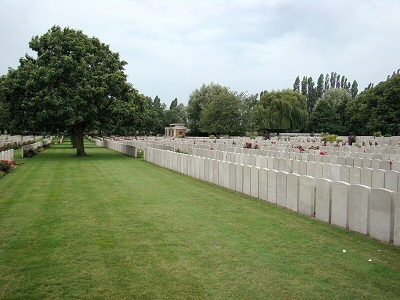 Lijssenthoek Military Cemetery, Poperinge, Belgium
Son of Jean & Marie Le Pennec, of St. Helier, Jersey.
Brother of Alfred Le Pennec

One of three brothers who served two of whom fell, both in 1916
Died of wounds, aged 22 years
NEWS ITEM in Jersey Evening Post of Friday 20 November 1914
Another Jersey Soldier Wounded. Another Jersey soldier has been wounded in action but fortunately is recovering rapidly. The lad, Rifleman Toussaint Pennec, was born at St Marys and enlisted in 3rd Battalion Rifle Brigade. He has been 2 months altogether fighting in France and having been 5 weeks in the trenches at the Aisne his brigade was moved to the left of the firing line. They attacked on 13 October and just before reaching Lille Pennec was wounded by shrapnel in the right shoulder and was removed to Leeds. His wounds were serious and he was compelled to remain in hospital for 4 weeks. He was however delighted, he says, to receive the Jersey Weekly Post with photos of his chums at the Front. The Rifleman's many friends in the Island will be pleased to hear that he is now at Portsmouth recuperating and hopes to be soon back again at the Front.