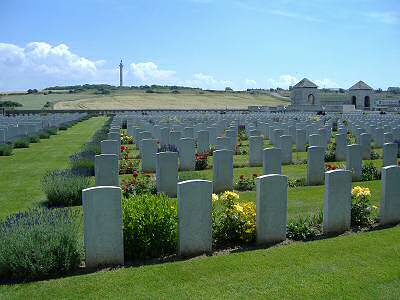 Terlincthun British Cemetery, Wimille, near Boulogne
NEWS ITEM in Jersey Evening Post of Friday 6 September 1918
Dangerously Wounded. We regret to state that the relatives of Private P N Le Quesne of the Hampshire Regiment have received a telegram from the Record Office stating that the soldier was admitted on 1 September to a Casualty Station in France dangerously wounded and that permission to visit him cannot be granted. We hope for more favourable news shortly.
NEWS ITEM in Jersey Evening Post of Friday 4 October 1918
Roll of Honour. On 1 September, whilst in action with the Hampshires, Private Philip Nelson Le Quesne was severely wounded and was eventually removed to the 13th General Hospital in Boulogne. Though everything possible was done for the soldier he did not make much progress and his wife, nee Miss Elsie J Rondel, and another relative left Jersey by special authority to visit him but unfortunately the gallant lad passed away on Michaelmas Day as the result of his injuries and was buried in France. The deceased, who was in his 25th year, was the only son of Mr & Mrs P J Le Quesne of The Dell, Grouville. To the widow, parents and other relatives we tender our heartfelt condolences.


Commonwealth War Graves Commission Record