Albuera Cemetery, Bailleul-Sire-Berthoult
(Picture courtesy of Mike & Rosemarie Thomas)
NEWS ITEM in Jersey Evening Post of Friday 17 August 1917 Roll of Honour.
Jersey Family's Double Loss - Sub Lieutenant G J Le Seelleur Killed in Action.
It is with deep regret we announce that Captain & Mrs J M Le Seelleur of Haute Place, St Peter's have received official information from the Lord Commissioners of the Admiralty that their third son, Sub Lieutenant Gordon J Le Seelleur, RNVR, was killed in operation in France on 10th inst.
The late officer, who was in his 24th year, had been in France some time and was highly respected amongst all ranks.
This is the family's second loss, another son, a Lieutenant in the Royal Navy, having made the supreme sacrifice in a naval engagement earlier in the war.
We tender the parents, who have another son in the services, our great sympathy in the loss they have sustained.
Brother of Hedley and John Thomas Le Seeleur.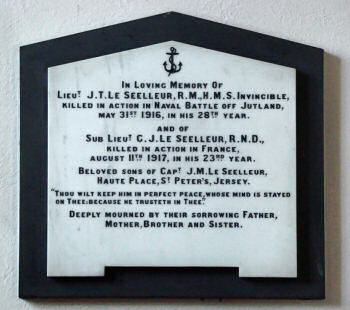 Commemorated on family memorial in St Peter's Church, Jersey
commemorated on St Peter's Parish Memorial, Jersey
Commonwealth War Graves Commission Record