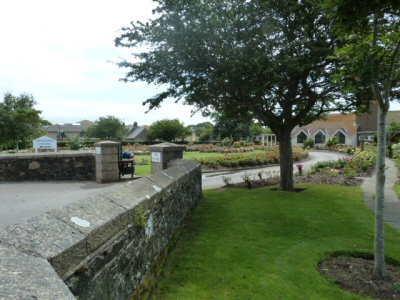 Westmount (Strangers') Cemetery, St Helier, Jersey
(now known as the Crematorium)
Photograph by Vic Geary
NEWS ITEM in Jersey Evening Post of Monday 6 September 1915

Death of Militiaman in the Hospital - Military Funeral. The death occurred on Saturday last at the General Hospital of Private Joseph T Lihou of C Company RMIJ. The deceased, who was a native of Guernsey, was admitted for cardiac trouble this being the cause of death. As a token of respect a number of the deceased's comrades in arms attended the funeral which took place this afternoon with semi-military honours.

Born at St Peter Port, Guernsey. Son of Joseph & Elizabeth Lihou of St Peter Port, Guernsey.
Died in the General Hospital, St Helier, Jersey of heart disease, aged 35 years.
Buried at Westmount Cemetery, Jersey


Commonwealth War Graves Commission Certificate
Accepted for commemoration by the Commonwealth War Graves Commission in June 2011