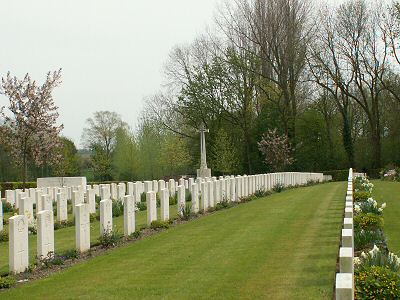 Kemmel Chateau Military Cemetery, Belgium


NEWS ITEM in Jersey Evening Post of Saturday 16 September 1916
More Casualties in the Royal Irish Rifles. The list of casualties in the Jersey Contingent which we have published during the last few days and from names which still continue to come through show that the gallant Jerseys were in the thick of the fighting in the Great Push. One of the injured is Corporal Ernest Louis of the Machine Gun Section Royal Irish Rifles who has been wounded in the face and is now at Rouen General Hospital.

NEWS ITEM in Jersey Evening Post of Thursday 31 May 1917
Roll of Honour. The parents of Corporal E Louis of the Jersey Company 7th Battalion Royal Irish Rifles have received a letter from Lieutenant Colonel Francis, Officer Commanding the Battalion, stating that the Corporal was killed on the night of 22 May during a raid on the enemy trenches.
The Colonel states "He was one of the first to get into the trench but one of the enemy threw a bomb which burst close to him and killed him instantaneously. His body was brought back to our lines and buried by the Reverend Father Doyle, who had given him Absolution before he went out. Corporal Louis had been with us since we came to France and was one of the finest men in the Battalion, he always volunteered for every raid or dangerous enterprise".
The Officer in charge of the party has written of him
"His high spirits and cheerfulness during the preparation for the raid undoubtedly helped to strengthen the already high morale of the party I had the honour to lead. Such a man is so great a loss to us all that we can in a measure sympathise with his family".
The late NCO, who formerly served in the East Battalion, was only 20 and was held in the highest respect by a number of friends and acquaintances here and to these and the bereaved family we tender our heartfelt sympathy.