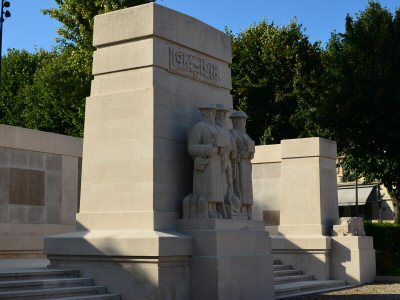 Soissons Memorial, France, Aisne
Notice of Death appears in Jersey Evening Post of Friday 12 July 1918
Commemorated on Victoria Street Congregational Church Memorial, Jersey

Private Oswald Luce
50th Battalion, Machine Gun Corps
06/06/1918
Third son of Captain & Mrs Luce of Canada
Husband of Lily Maude Luce (nee Clarke) of 67 Val Plaisant, Jersey
Killed in action, aged 27 years.

NEWS ITEM in Jersey Evening Post of Friday 12 July 1918
Roll of Honour. It is with feelings of sincere regret we announce the death which has taken place in action of Oswald Luce of the Machine Gun Corps. This young soldier was the third son of Captain & Mrs Luce late of Roseville Street and now of Canada. He left for the land of the maple with his family a few years back but after a short stay returned to Jersey and was employed by Mr Le Seelleur of Queen Street and also by Mr Lander at the PoW camp. He married Miss Lily Clarke, daughter of Mr Clarke of St Saviours Road, and resided at 67 Val Plaisant. He volunteered early in 1917 and had been in France for some 10 months. Of a most genial and courteous disposition Oswald Luce had scores of friends who held him in the highest esteem and much sympathy will be felt for the young widow who is left with a baby son and to whom the sad news has naturally come as a great blow. The late soldier, who was 27, made the supreme sacrifice on 6 June; he was a member of the Victoria Street Church and was a Lieutenant in the 8th Company Boys Brigade. We tender the widow and other relatives our sincere sympathy in their sorrow.