Couin New British Cemetery, near Doullens
Only son of Frank and Eliza Lunn, of 12, Paget St., Southampton.

Killed in action, aged 20 years

NEWS ITEM in Jersey Evening Post of Wednesday 17 October 1917

Jersey Rifleman Obtains Commission.
The London Gazette issued for publication Tuesday morning contains the following "Territorial Force. The under mentioned from Officers Cadet Unit to be 2nd Lieutenant 26 September 1917 Liverpool Regiment - Frank Victor Lunn".
The above officer volunteered and left the Island to join the Jersey Company shortly after they left the Island to train in Ireland. He was shortly afterwards promoted Corporal and when in France was recommended for a commission.
Commonwealth War Graves Commission Record
Picture courtesy of Mike & Rosemarie Thomas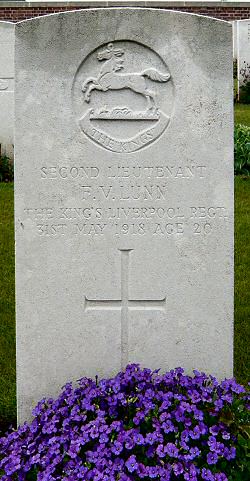 Second Lieutenant Frank Victor Lunn
8th Battalion, King's Liverpool Regiment
31/05/1918


1914-15 Star
NEWS ITEM in Jersey Evening Post of Monday 15 July 1918
Roll of Honour. Another member of the gallant Jersey Company has been killed in action, 2nd Lieutenant Frank Lunn, the gallant soldier referred to, was formerly employed at Halliwells Bellfield Hotel and volunteering for the Jersey Company Royal Irish Rifles proceeded with them to France in January 1917. When a Corporal he was recommended for a commission and after a period of training was gazetted as 2nd Lieutenant in the Kings Liverpool Regiment. He had been in France some time and proved to be a most efficient soldier, highly respected by his superiors and very popular with his men, he unfortunately was instantaneously killed on 31 May last. To the relatives, who reside in Southampton, we tender our sincere sympathy.