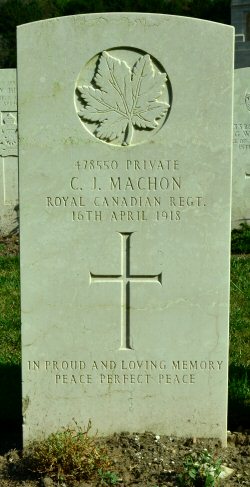 Private Charles John Machon
Royal Canadian Regiment
16/04/1918

Fourth son of Philip & Elizabeth Machon of Melbourne Place, Bagot, Jersey
One of two brothers who both fell in 1918

Died of tuberculosis in Camiers, aged 28 years.
NEWS ITEM in Jersey Evening Post of Monday 22 April 1918
Roll of Honour. Mr & Mrs Machon of Melbourne Place, Bagot have received the sad news that their fourth son, Private Charles John Machon of the Royal Canadian Regiment, died at the 18th General Hospital in Camiers on Tuesday last of tuberculosis caused through exposure on active service, this loyal soldier was 28 and left for Canada some years back, where he volunteered for service overseas and had been in France for some time. A few weeks back the parents heard that he was in hospital but only a few days ago a letter was received from the deceased of a very cheerful and hopeful nature, so that the parents grief on receiving the above sad news can be imagined. The late soldier was well known and held in the highest respect locally and the parents, who have other sons on active service, have the sympathy of a large circle of relatives and friends.