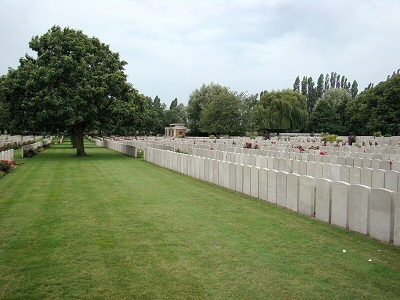 Lijssenthoek Military Cemetery, Poperinge, Belgium
Son of George Marett and Elizabeth Le Leivre (his wife), of 14, James St., St. Heliers, Jersey.

Died of wounds, aged 36 years

NEWS ITEM in Jersey Evening Post of Friday 15 February 1918
Roll of Honour. The large circle of friends and acquaintances of Sapper G Le Lievre Marett of the Royal Engineers will regret to learn that news has been received of his death through wounds. Sapper Marett will be better remembered as the popular commissionaire at the Opera House. Though 36 years of age and having a wife and five young children and having recently acquired a carpenters business he loyally volunteered and joined the Royal Engineers under the Derby Scheme. He had been serving in France for some time and yesterday his wife, who resides at 14 James Street, received the tragic news of his death from the Reverend W L Archer, Chaplain of the Casualty Clearing Station. This letter was of a most sympathetic and comforting nature, the Chaplain stated that the Sapper was admitted early in the morning of 10 February suffering from severe wounds in the chest, he had little pain but realised his position and was only anxious for his wife and children. He asked the Chaplain to send them his love and to tell his wife not to worry, his last words were "I shall be with God, I am in His hands" he then passed into unconsciousness. The Chaplain adds "I have met no man who could go to his God so uncomplainingly and so nobly". We tender the widow and other members of the family our heartfelt sympathy in their great bereavement.