Kviberg Cemetery, Sweden

HMS Catspaw, an Admiralty drifter, sailing from Reval (Tallinn) for Copenhagen, was lost in bad weather near Oland Island. There were no survivors, all members of crew being buried in Kviberg Cemetery, Gothenburg, Sweden.

The 96 ton Admiralty specification Drifter which was built by the Ouse Shipbuilding Company of Hook, Goole, Yorkshire, and commissioned on 6 August 1918. H.M. Drifter "Catspaw" was used for minesweeping and coastal patrols, and was amongst the vessels in the Baltic 1st (light cruiser) Squadron that operated in the Baltic Sea during 1919 and 1920, which was commanded by Admiral Sir Walter 'Titch' Cowan K.C.B., D.S.O., M.V.O. During that period the squadron kept the sea lanes open to the newly independent Latvia and Estonia. At the time of the loss of the vessel, she was returning to Copenhagen, Demark from her involvement in the North Russian campaign, as the Gulf of Reval had frozen up.

She foundered in a storm off Segerstad, Öland (in the Kattegat), with the total loss of her ship's complement of 3 officers and 11 ratings, all of whom are buried in the same cemetery. The reason for the loss of H.M. Drifter "Catspaw" is not certain, but it was noted later that her steam powered engine was located some distance away from the bulk of the wreck, which led to Admiralty Inquiry speculation that the ship's engine had probably played a major part in her loss. The Swedish Salvage Company "Neptun" was accepted for the purchase of the wreck for £500, with the proviso that the operation was subject to the destruction of the ship's gun onboard, and the return to the Admiralty of any books or documents which may be salved.
Picture courtesy of Gareth Thomas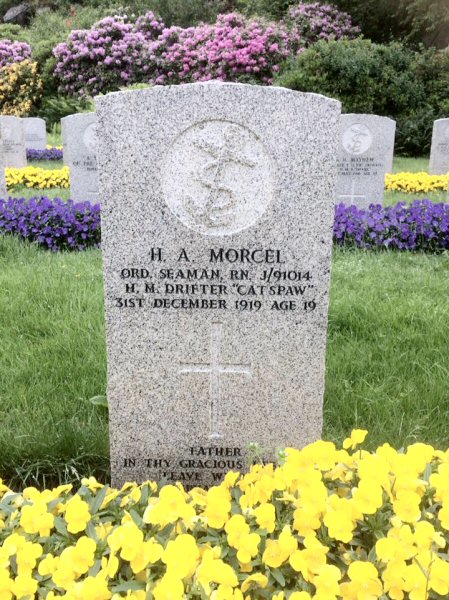 Ordinary Seaman Henry Augustus Morcel
Royal Navy. HMS "Catspaw"
31/12/1919
Son of Auguste and Emily Morcel, of Les Fougeres, St. John's, Jersey.
Lost, aged 19 years
Commemorated on Trinity Parish Memorial, Jersey
Picture courtesy of Suzanne Make