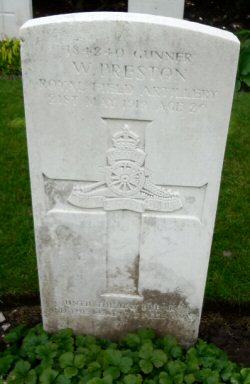 Gunner Wilfred Henry Preston
C Battery, 47th Brigade, Royal Field Artillery
21/05/1919


Son of Alfred & Elizabeth Preston of 30 Belmont Road, St Helier, Jersey.
Died, aged 21 years
NEWS ITEM in Jersey Evening Post of Monday 26 May 1919
Roll of Honour. On Friday last we stated that Mrs Preston of 30 Belmont Road had received telegraphic information that her son, Gunner Wilfred Henry John Preston of the Royal Field Artillery, was lying seriously ill at the 47th General Hospital in Bonn. The soldiers relatives and friends were hoping that news of a more favourable character would arrive, but unfortunately another telegram has been received by the mother stating that the Gunner died on Wednesday last after a very brief illness. The soldier was in his 21st year and had passed through several months of hard fighting only to succumb to illness a few days before peace is to be signed. We tender the bereaved family our sincere condolences.