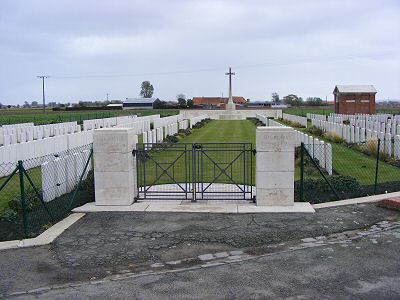 Haringhe (Bandaghem) Military Cemetery, Belgium
(served as William HOLLEY). Born at Santander, Spain, where his father was Vice-Consul. Son of the late, Jersey born, Winter William Single and Jane Ann Case of 32 1/2 Hue Street, St Helier. Former employee of A De Gruchy's.
Originally joined the Royal Navy prior to transfer to the Wiltshires.
Died of wounds, aged 23 years.
Harold SINGLE was in the Royal Navy as the line "Originally joined the Royal Navy prior to transfer to the Wiltshires" states, however, his naval service record suggests a different story.
Born at Santander in Spain on the 13th August, 1894, he enlisted for the period of hostilities on 27th July, 1915. Allocated the service number L7152, he joined HMS Victory I, a shore establishment at Portsmouth, as an Officer's Steward - 3rd Class. He was on HMS Victory I for approximately four weeks before being sent to HMS Magpie on 24th August, 1915. It is believed that HMS Magpie was a boom defence vessel at Great Yarmouth.
Just over four months later, on 27th December, 1915, Harold's record has the annotation "Run", and there are no further entries. Certainly, there are none that indicates that a formal "Transfer" from the RN to the Wiltshire Regiment had taken place. He had thus deserted from the Navy, and it might be assumed that he had wanted to see more action in the Great War than he might have experience onboard HMS Magpie!
Why, if a "Transfer" had taken place, did he assume the alias of HOLLEY (which we had assumed was his mother's maiden name)**?
We have been informed that his mother's maiden name was "Case"
Notice of Death appears in Jersey Evening Post of Monday 10 June 1918

NEWS ITEM in Jersey Evening Post of Monday 10 June 1918
Roll of Honour. After being without news for some eight weeks Mrs Single of Hue Street has received news that her son, Private Harold Winter Single of the Wiltshire Regiment, died of wounds on 18 April. The deceased soldier, who was in his 24th year, joined up shortly after the outbreak of war in the Royal Navy and later transferred to the Wiltshire Regiment. He was formerly employed at A de Gruchy & Co and was a most popular and highly respected townsman. He had been wounded during the campaign but on recovery returned to the Front, where he has now been called upon to make the supreme sacrifice. We tender the mother and other members of the family our heartfelt sympathy in their sorrow.