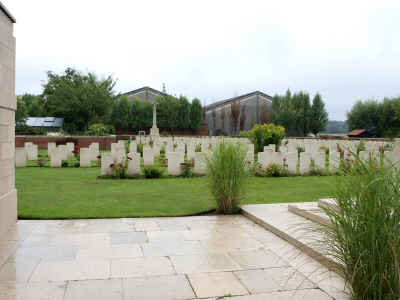 Voormezeele Enclosure No.1 & 2, near Ieper
Born at St Peter's, Jersey. Son of John Wakeham and his wife, Elizabeth Mauger of Jersey. Served 4 years in RJM (West).
Killed in action, aged 39 years.


NEWS ITEM in Jersey Evening Post of Saturday 3 June 1916
Another Jersey Hero Killed. News has been received of the death "somewhere in France" of Private John Wakeham of the Canadian Brigade. This young hero, who visited his relatives in January last, had been nine months in the trenches. He volunteered shortly after the outbreak of war, having been in Canada over 10 years. The following letter received by his sister, Miss Wakeham of Brooklands, St Peters, will show in what high esteem Private Wakeham was held.
It reads "6th Infantry Brigade 2nd Canadian Division BEF, Army Post Office London. 29.5.16. Dear Miss Wakeham, You will have received word how your brother gave his life for that great cause of honour and freedom for which we are engaged and his name is added to our Empire Honour Roll. Please accept the sincere sympathy of both officers and men of the 31st Battalion who knew him, and by whom he was always most highly spoken of. A wooden cross will mark the spot where the body lies and his personal effects will be forwarded to you by the Adjutant of the Regiment. May our loving Heavenly Father, who has promised to wipe away all tears, be your comfort and support. Believe me yours very sincerely,
C C OWEN Chaplain 6th Infantry Brigade".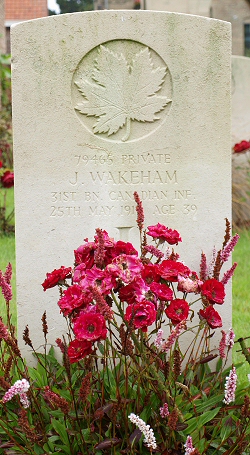 Private John Wakeham
31st Battalion. Canadian Infantry (Alberta Regiment)
25/05/1916
Notice of Death appears in Jersey Evening Post of Monday 5 June 1916
Commemorated on St Peter's Parish Memorial, Jersey
Commonwealth War Graves Commission Record