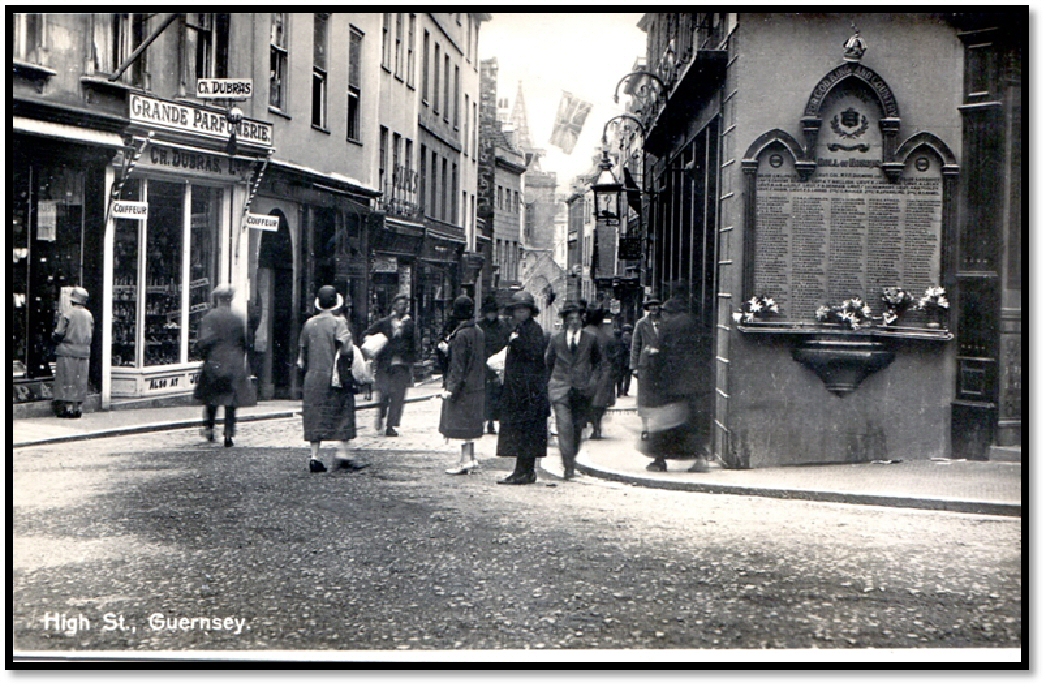 By June, 1918 it was already too small for the ever growing number of names, and so was enlarged to form a triptych. The changes cost about £50 and were funded by public subscription, with the work again being done by Messrs Smith and Dene. The new shrine went up on the 2nd February, 1920 on the original site and stood there for 35 years. However, when Le Riche's stores needed painting in 1955 the triptych had to be taken down, and it was then noticed that it was in a very poor condition. The cost of repair was estimated at about £50. However the Douzaine of the day decided that the expense was unnecessary as the names of the men were by this time inscribed on the Bailiwick Memorial at the top of Smith Street. So the memorial was not replaced.
Two wooden copies of the triptych were made as Millennium projects but unfortunately they do contain some errors. *One was placed in the St Peter Port Constables' Office while the other was erected in what was then Checkers superstore, at that time, part of the Le Riche Group, in the newly built Admiral Park. The store is now part of the Waitrose chain but the **memorial remains just inside their front door near the cafeteria. However many people felt that there should be a proper memorial on the original site.

*not available to view as it is warped
**This copy has now been removed
St Peter Port Douzenier Keith Pike led the move to have the memorial replaced and he saw his dream realised on the 7th November, 2014 when a copy of the shrine created in modern materials was unveiled at the original site which is now owned by a French bank. Like the earlier versions it was funded by public subscription. It was unveiled in a ceremony as similar as possible to the original with the current Lieutenant-Governor, Air Marshal Sir Peter Walker, performing the unveiling ceremony and a contingent from the Guernsey Military History Company forming the Guard of Honour. A solitary trumpeter played the Last Post and the shrine was blessed by the Reverend Jonathan Le Tocq, Guernsey's Chief Minister.