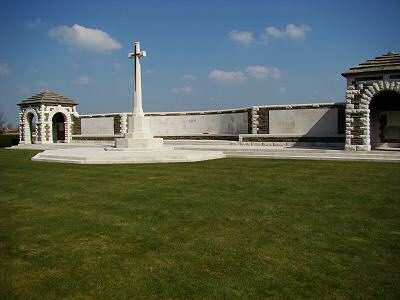 V C Corner Australian Cemetery, Fromelles, France Nord

Old Victorian and Ex-RMIJ. Sergeant Church is believed to be one of the (approximately) 400 men whose remains have recently been discovered in a mass grave at Pheasant Wood, Fromelles that was originally dug by the Germans after the Battle of Fromelles on 19th/20th July, 1916.
The remains of these men are currently being disinterred, and will be subject to DNA analysis in the hope that some men can be identified. A new cemetery has been constructed for their re-interment which took place in 2010.
As at June 2015 he has still not been identified.
Following the recent meeting of the Fromelles Identification Panel, the formal six year programme to identify the remains of 250 British and Australian soldiers that were found in burial pits at Pheasant Wood near Fromelles in France is drawing to a close with 144 men having been identified. Henceforth, identification will take place directly through the respective Ministries of Defence.
Throughout much of that period, the Group has been working to secure the identification of Old Victorian, Sgt Chester Church, through research and in locating family members from the male line who are considered as being suitable donors of DNA samples. Unfortunately for whatever reasons, that effort has not proved successful, and Sgt Chester Church has still not been identified.

However, research work is continuing, and with the advice of the Australian Department of Defence, it is hoped that that this will provide a conclusive outcome before long.
_____________
We have just received clarification that the family were informed that the MtDNA does not match any of the outstanding unidentified soldiers, so it seems Chester was not amongst the soldiers found. One hopes the ADF will keep the DNA profiles in the event that further bodies are discovered.

December 2020