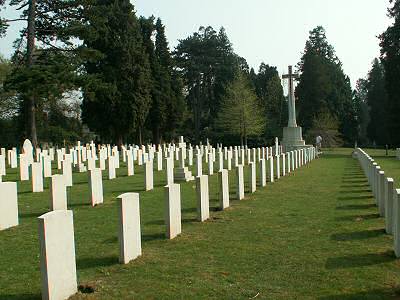 Netley Military Cemetery, Southampton.
Theodore Mark Church, was born on 1st October, 1886, either in Portsmouth, Hampshire, England (as stated in "Soldiers Died in the Great War" (SDGW)), or in Brisbane, Queensland, Australia (as per his family tree). According to SDGW, he enlisted in Jersey with the East Surrey Regiment, this possibly taking place at some point between 24th October, 1905 and 5th November, 1908, when the Regiment's 1st Battalion garrisoned Jersey. His regimental number purported to be 8718, although there is another soldier listed with that number. He later served as a Sapper (regimental number 30832) with the Reserve Signal Depot, Royal Engineers and died at Netley Hospital, Southampton, Hampshire, England on 2nd April, 1915. It appears that he was unmarried, and there are currently no references in his CWGC record to family, nor are there references in the National Archive to Great War medals. Theodore was the older brother of Chester Cecil Church, and his parents were Augustus Mark Church and Susannah Louisa Church (née Flowers). Susannah was widowed in 1893, and married Frederick George Aplin two years later. The Aplins, along with Theodore and Chester, lived in Jersey for a period between 1902 and 1910, at the Grasshopper Hotel at 3 Mulcaster Street where Frederick was the Manager, working for Susannah's younger sister, Caroline Flowers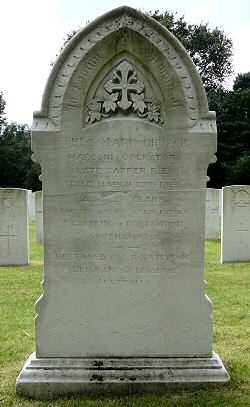 Sapper Theodore Mark Church
Reserve Signal Depot, Royal Engineers
02/04/1915
Son of Augustus Mark and Susannah Louisa Church (nee Aplin), of 130, Cavendish St., Stanmore, New South Wales. Brother of Sergeant Chester Church.
Died at Netley Hospital, aged 28 years.
Commonwealth War Graves Commission Record
Picture courtesy of Alan Bridger of Bursledon