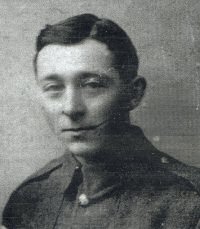 Lance Corporal Herbert Mallet Graut*
1st Battalion, Rifle Brigade
03/05/1915


1914 Star
(Picture courtesy of Ron Davies)
Second son of Philip & Eliza Rachel Graut (née Mallet) of 16 Chevalier Road, St Helier, he was married with one child to Charlotte Elsie Maret, and living at Cheapside. Before the war he worked at Mr Touzels Grain Establishment in Halkett Place, but, being a reservist, was called to the colours. One of two brothers who both fell. Brother of Private Henry George Graut.
Killed in action at Hill 60 , aged 32 years.
NEWS ITEM in Jersey Evening Post of Monday 24 May 1915
Roll of Honour. Still another name has to be added to the already long list of Jerseymen who have laid down their lives for their King and Country. It is with profound regret that we have to chronicle the death of Acting Corporal Herbert Mallett Graut of the 1st Battalion Rifle Brigade who was killed in action on 3 May 1915. The official notification of his death was received by his relatives on Saturday last. Corporal Graut, who is the second son of Mr & Mrs Graut of 16 Chevalier Road, was formerly employed with his father at Mr Touzel's corn establishment in Halkett Place. Being a reservist he rejoined the colours on mobilisation and soon proceeded to the Front. He was severely wounded in the leg and returned home for a brief furlough last Christmas. When he was able to rejoin his regiment he was again sent to the Front where he unfortunately met his death. The deceased who was in his 32nd year leaves a widow and one child who now live at Vera House, Cheapside. To his wife, parents and other members of the family we offer our sincerest condolences.