Estaires Communal Cemetery, near Armentieres.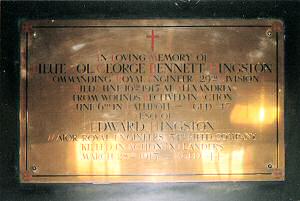 Family memorial in St Mark's Church, Jersey.
Notice of Death appears in Jersey Evening Post of Saturday 3 April 1915
Youngest son of the late Richard & Mrs Hingston of 2 Upper Kings Cliff, Jersey. One of two brothers who both fell in 1915. Brother of Lieutenant-Colonel George Bennett Hingston.

Husband of Annie Amelia Hingston (nee Radcliffe) of Kent.
Killed in action at Levautie, aged 44 years.
Educated at Victoria College, Jersey
Commemorated on family memorial in St Mark's Church, Jersey,
on OV Memorial, Jersey
and St Mark's Church Memorial