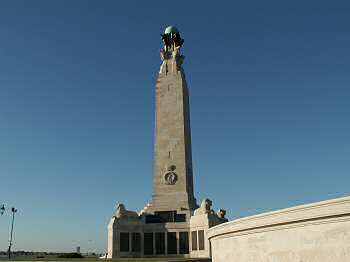 Portsmouth Naval Memorial
Southsea Common

Son of Edward and Sarah Ann Holland, of St. Helier, Jersey. Husband of Lizzie Holland, of 24, Chesterfield Rd., Copnor, Portsmouth. Brother of Harold Edward Holland. M.M.
Killed in action, aged 35 years


NEWS ITEM in Jersey Evening Post of Monday 4 February 1918
Drowned on the Louvain. In another column appears the official notification of the sinking by hostile submarine of SS Louvain on 21 January with the loss of some 224 officers and men. We regret to state that included amongst this total was a Jerseyman, Armourers Mate E W Holland, son of Mr E Holland of Fern Place, Ann Street. The late sailor, who had been 13 years in the Royal Navy, was 33 and was married quite recently to an English lady who resides in Southsea. The father received a cheerful letter from his son by one of the last mails and after reading it was shocked to find a letter from his daughter-in-law informing him of the sad loss. A brother of the deceased, Company Quarter Master Sergeant Holland of the East Surrey Regiment, was on leave in the Island in January and is about to proceed to the Front. We tender the bereaved our heartfelt sympathy.

Commemorated on family memorial in Almorah Cemetery, Jersey
Commemorated on St Martins Parish Memorial, Jersey