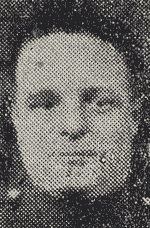 Company Quartermaster Serjeant Harold Edward Holland
8th Battalion, East Surrey Regiment
01/09/1918
(Picture courtesy of Dover Express and
the Dover War Memorial Project)


Military Medal
Son of Edward & Sarah Ann Holland of St Helier Jersey. Husband of May L. G. Holland (nee Simmonds), of 29, Eaton Rd. Dover Kent. Born at St Martin's, Jersey. Enlisted at Jersey.
Brother of Edward William Herbert Holland
Killed in action, aged 36 years
NEWS ITEM in Jersey Evening Post of Monday 7 October 1918
Some little time back we stated that Company Sergeant Major Harold E Holland of the East Surrey Regiment had been killed in action on 1 September, his widow, nee Miss May Simmonds, of St James' Place has now received a letter from the Captain of her husband's Company informing her of her tragic loss and stating that the Company Sergeant Major was killed during an attack by the Company. The Captain adds
"Your husband was acting Sergeant Major at the time and had done excellent work. He was a very fine example of bravery and leadership and is sadly missed by us all. It may be some small consolation to you to know that he was killed instantaneously."
He had just recently been awarded the Military Medal for good work in a previous battle.



Commonwealth War Graves Commission Record