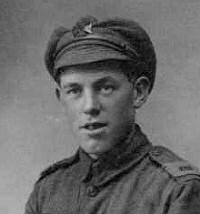 Picture courtesy of Richard Gallichan
Rifleman Francis Joseph Lucas
2nd Battalion, Kings Royal Rifle Corps
17/10/1918
Eldest son of Frank & Annie Lucas of 9 Haimance Place, Ann Street, St Helier, Jersey.
Killed in action, during the 2nd Battalion's operations north of La Vallee Mulatre, aged 20 years
NEWS ITEM in Jersey Evening Post of Monday 11 November 1918
Roll of Honour. Mr & Mrs F Lucas of 9 Haimance Place, Ann Street, have received the sad news that their elder son, Rifleman Francis John Lucas of the Kings Royal Rifles, was killed in action on 17 October. The deceased soldier formerly worked at the Victoria Dairy and in 1915, being then 17, he volunteered and joined the Kings Royal Rifles, following the loyal example of his father, who joined the original Jersey Company Royal Irish Rifles and was honourably discharged after serving overseas. The late Rifleman was a bright and popular young fellow and much sympathy will be felt for the bereaved family.
Commonwealth War Graves Commission Record