Arras Road Cemetery, Roclincourt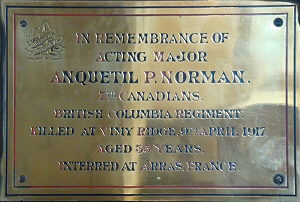 Plaque in St Clement's Church, Jersey
NEWS ITEM in Jersey Evening Post of Tuesday 17 April 1917
Roll of Honour.
It is with deep regret we state that the Casualty List issued this morning contains the name of another gallant Jersey-Canadian Officer, Lieutenant (acting Captain) Anquetil Philip Norman. This gallant officer was 35 and was the son of the late Mr Francis Norman of La Davisonnerie. He was educated at Victoria College from 1893-99 and during the Boer War volunteered and served with the Scottish Horse. At the cessation of hostilities he returned to Jersey and afterwards left for Canada and promptly joined the British Columbia Detachment of the Canadian Expeditionary Force at the outbreak of the present war. While serving in France last June he was wounded and spent some time in his native Island on sick leave. He later returned to the Front and unfortunately made the supreme sacrifice at Vimy on 9 April.

The deceased gallant officer leaves a widow and young son, to whom, with the other relatives in Jersey, we tender our heartfelt sympathy.