The Battle of the Falkland Islands
8th December, was to prove an exception to the rule in the Falklands where it usually rains for 21 days during the last month of the year, for it was a perfect mid-summers day as the fleet was coaling in harbour.
At 7.56 am the Glasgow fired a gun to attract the attention of Invincible who was busy coaling, that Canopus had reported smoke in sight to the south. At 8.15 am a signal came from the flagship to "Raise steam for full speed, report when ready"
The enemy's two leading ships Gneisenau and Nurnberg were in sight approaching the Wireless Station. When they were near Wolf Rocks they stopped engines and turned north-eastwards. Canopus opened fire over the low neck of land at 9.20 am with her 12 inch guns, firing five rounds at a range of 12,000 yards. Hoisting their colours, the enemy turned away to the south east to join the main squadron.
From survivors it appears that one of Canopus's shells had ricocheted, striking the Gneisenau at the base of her after funnel. It was also claimed that a piece of another hit the Nurnberg.
At 9.45 am the British squadron weighed and proceed from harbour, the last of whom cleared by 10.30 am. Glasgow came out first, followed by the two battle-cruisers doing 25 knots, followed by Kent, Carnarvon and Cornwall doing about 22 knots. The Admiral reduced speed for an hour to 20 knots at 11.15 am to allow the "County" cruisers to catch up. At 12.47 pm he hoisted the signal "Open Fire" and eight minutes later the Inflexible fired the first round of the battle at the Leipzig. The Invincible followed almost immediately after. Both ships were going their full speed, nearly 27 knots and firing at a range of 16,000 yards (over 9 land miles).
The fight between the two British battle-cruisers and the German cruisers lasted between 3 and 6 hours. The Scharnhorst sank at 4.17 pm and the Gneisenau heeled over at about 5.45 pm. Invincible had been hit about 22 times, 18 directly and had a list to port as two shells had struck below the waterline. The Wardroom had been demolished. There had been no casualties amongst her crew of 950 men. The Inflexible had 2 hits, 1 crew killed and 3 wounded.

The British squadron in total lost 7 men killed and 18 wounded (3 subsequently succumbed). The Germans lost 2,260 men. The Dresden was the only ship to escape and was later sunk on 14th March, 1915 by the Kent and Glasgow.

Vice-Admiral Sturdee was rewarded with a baronetcy.


HMS Inflexible
Letter dated 9th December 1914
After the action off the Chilean coast, we sent home word for reinforcements. These did not arrive until the day before yesterday, when a large fleet came here comprising the Invincible, Inflexible, Carnarvon, Cornwall, Kent, Glasgow and Bristol. Up to this time we had heard nothing of the Germans. The very next day (yesterday), the whole fleet of Germans, which had been in the action of November 1st - Scharnhorst, Gneisenau, Leipzig, Dresden and Nurnberg - turned up. They couldn't have come at a more opportune moment, as if they had arrived earlier our fleet would not have been here and if they had arrived later the fleet (which was to have left today) would have gone!
We, the Canopus went to General Quarters about 10.00 am and opened fire with our 12 inch guns. Our other ships could do nothing, as the land was between them and the enemy, and most of them were coaling. We fired a lot of shots and hit the Gneisenau. By this time the fleet had weighed and were coming out at full speed. The Germans turned tail and fled with the fleet at full speed after them.
Of course we could not follow as we were on the mud. Still we had opened up the action, prevented the enemy from shelling the Wireless Station and saved the fleet from being attacked while at anchor. All that day we waited anxiously for news. Towards evening we got the welcome news that the Invincible and Inflexible had sunk the Gneisenau and Scharnhorst. Later we heard that the Leipzig was on fire fore and aft and she sank soon after. Then the signal came through from the Kent "Have sunk the Nurnberg". We were frantic with joy. We have got a lot of prisoners on board. The officers are being kept in the Captain's lobby, where they are guarded by sentries with fixed bayonets. They get quite respectable food, however! The men are all forrard. One prisoner who can talk English told us they had intended to destroy the Wireless Station, to land by night and sack the town and sink all the colliers and store-ships in the harbour, sink the Canopus if we made any resistance and decamp to West Africa taking the crew of the Canopus with them. There was only one thing they didn't know all about and that was the arrival of our fleet.
If the fleet had arrived only two days earlier or two days later, it would have been all up with us and everyone else on the Falkland Islands.
However it turned out all right. I am only sorry we were not able to go out and settle some of them ourselves, but anyhow we could not have kept up with the fleet.
Still we did our little lot.
26th December
At Abrolhos Rocks off the Brazilian coast.
No news of the Dresden or Karlesruhe still at large
1915
6th January
At Port Stanley
15th February
In docks in Malta
6th March
In the Dardanelles.
Silencing of Fort 8.
Letter to Reginald dated 6th March 1915 and published in "The Morning Times" of 3rd April 1915
My Dear Dad,
I wish you many happy returns of the day. I hope this letter will arrive more or less on the right date, but of course one can't choose one's own time for letter writing nowadays - one takes one's chance.
We have been having an exciting time lately. After leaving Malta, we went up to the Dardanelles where there are heaps of other ships bombarding the place. We have made a base of a small island just outside the entrance and take turns to bombard.
The other day it was our turn. We went up about 10 miles, past all the forts which have already been silenced, till we came to those which had not. It was our business to silence "No 8" fort, which is on the European side. We opened fire on it, and got the range pretty quickly, and then kept on firing with our 6 inch guns and an occasional shot from our 12 inch, it was not until 1 ½ hours after the start that the fort thought of returning our fire, but when they did so they were pretty accurate. They bought our main topmast down, made a large hole in the Quarterdeck, the shot going through and damaging the Ward Room, a hole was made in our after funnel, besides the damage done by splinters of shell (they had been firing shrapnel) which I found on the Quarterdeck after the action. Anyhow we went on firing till sunset, which was about 6 o'clock, and then we chucked it in having silenced the fort.
Next day we went along the Asiatic coast outside the Dardanelles hunting for hidden field guns and things which might open fire if we attempted to land men or anything. We rooted out several and silenced then with our 6 inch - blew most of them into the air since we were at such close range. Today we were mostly employed in watching where the shots from the big ships went who were firing overland, and correcting their range for them since they could not see- we fired a few desultory shots ourselves.
P.
Letter dated 12th March 1915
A few nights ago we delivered a night attack, the whole ship being pitch dark herself. The mine-sweepers went ahead sweeping for mines, of which they picked up several, while we followed on astern firing at any lights or searchlight we could see on either shore. Some batteries replied to our fire, but nothing hit us.
But it seems that the Turks did more damage to us than we did to them, for although we managed to extinguish one or two of their searchlights, they sank two of our mine-sweepers, one I'm afraid with all hands - in the other all were saved.
We spent all last night patrolling outside the straits and in the morning came across a floating mine. We tried to sink it with rifle fire, but failed, though we hit it often enough. Then we tried a Maxim, which was equally ineffective. A 3-pounder gun was next tried, and after several shots we managed to sink it. Later we saw three more and sank them all.
The Admiral has called for volunteers of officers (including Gunroom officers) for work on the trawlers and mine-sweepers. All the Gunroom of Canopus has volunteered, but so many others have also that I don't suppose we shall get much of a chance.
Gallipoli - HMS River Clyde run aground at V Beach (note the Senegalese troops)

15th March Minehunting

18th March Sinking of Irresistible, Ocean and Bouvet

29th March Greek island?

6th April Sailed for Malta with the damaged Inflexible.
Tows her by the stern much of the way.

15th April At Skyros
Just back from Malta

2nd May Wounded at Anzac Cove. (See photograph)

Letter to Guy dated 2nd May 1915
My Dear Guy,
I may as well tell you about the lucky accident, which resulted my getting a slight scratch, which I proudly call a "wound". I was sitting in my boat, which was alongside the pontoon on the beach waiting for the wounded to come along.
Shrapnel was bursting all round us, several in fact, got into the boat. I was hit on the head by a shrapnel bullet and started bleeding like a pig. Luckily the thing was spent, and so, after being bandaged up at a field ambulance place, I was quite all right.
In his book "Gallipoli" by John Masefield, published in 1917, Reginald has annotated a mark on page 48:
"The boatmen and beach working-parties were the unsung heroes of that landing. The boatmen came in with their tows, under fire, waited with them under intense and concentrated fire of every kind until they were unloaded and then shoved off, and put slowly back for more, and then came back again."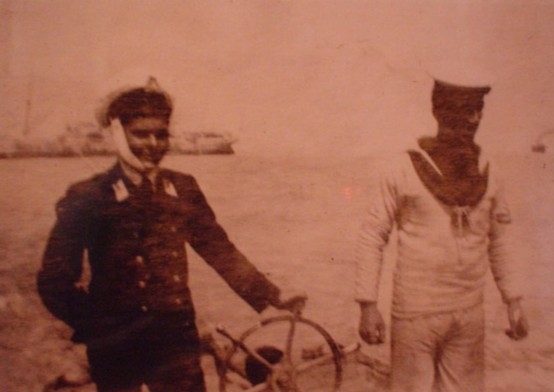 Philip and his "wound" on his lighter ferrying troops and wounded - Anzac Cove, Gallipoli
15th May Gaba Tepe to Mudros. Triumph sunk by U 21
Letter to Reginald in May 1915
My Dear Dad,

The submarine scare turned out to be quite a justifiable one after all. Several times we heard that there was one in the neighbourhood, whereupon we had closed all the water-tight doors (which meant that the Gunroom is inaccessible) and steamed about in circles keeping a sharp look out but it was not until yesterday that we actually saw the effects of it. The flap started at 7.30 am, so we were away all the forenoon. We were off Gaba Tepe at the time, but we were expecting to be relieved by the Vengeance some time during the forenoon after which we were going to Mudros to coal and ammunition. At about 10.00 am we sighted the Vengeance coming along to relieve us, but when she was about 5 miles away she suddenly altered course, and appeared to be steaming away from us. We wondered what was up, but presently she signalled to us that she had sighted a submarine and fired a torpedo at her, which had barely missed. The scare immediately got worse, and all ships which were anchored, weighed, and we were all cruising about independently. By that time, the Vengeance was close to us, but our Captain being the senior NO out there, shifted over to the Vengeance, while we cleared out for Mudros without him and with a destroyer escort.

At 12.30, I was standing on the Quarterdeck with several other people, when someone shouted "They've bagged the Triumph" we all looked at her through our glasses (we were about 4 miles away) and saw her heeled over at an angle of 60 degrees. She was actually struck at 12.26 and soon sank after 12.30. All the torpedo craft and trawlers immediately dashed to her aid and about 700 survivors were picked up, which was very good work indeed, as it means that very few people were lost.

Still, it is a very great disaster, as besides the loss to the Navy, one has to consider the effect it will have on the Turks bucking them up considerably .In fact some Turkish Officers who were captured said that the Turks would have chucked up the sponge long ago had it not been for the sinking of the Irresistible, Ocean and Bouvet on March 18th.

The Triumph was a pre-dreadnought battleship, a sister ship to the Swiftsure both of which were purchased by us from Chile. She carried four 10 inch guns and fourteen 7.5 inch beside several smaller ones. The Swiftsure is also out here. The Triumph was engaged in the capture of Tsing-Tao at the beginning of the war, and had not been home for 3 years, so it was especially hard luck for the people of those who were drowned.

I think the Canopus is about the luckiest ship in the service (touch wood) whenever a disaster occurs we always seem either to miss it or to clear out just in time e.g.
1) off the coast of Brazil where we were nearly torpedoed by the Karlsruhe
2) missing the Coronel Action
3) Admiral Sturdee's fleet turned up just in time to save us from Von Spee at the Falkland Islands.
4) Missing the TB, which sank the Goliath, by 10 minutes.
5) Missing the submarine, which sunk the Triumph by a hair's breath.
Still we are not out of the wood yet.

With much love to you all
Your affectionate son
Philip

_____________
23rd May
Canopus tows Albion off Gaba Tepe after it had run aground.
Canopus hit a good many times. 1 killed and 10 wounded.
11th June
At Malta for repairs
Lots of French ships in the harbour.
23rd June
At Malta
3rd July
At Mudros
13th July
At Meteline - Port Iero
28th July
The Admiral has been down in Chatham, Euralus and Canopus.
Preparation for a landing.
3rd August
At Meteline - Port Iero
16th August
At RN Chatham
5th September
Returned to Canopus.
New Commander GD Stevenson
Their sub AEB Giles awarded the DSO for saving Inflexible.
3rd October
At Meteline - Port Iero. Making ready for winter.
Concrete piers.
Rattlesnake mentioned in despatches.
11th October
At Meteline - Port Iero
Olympia dwarfs all other ships
19th October
At Suvla Bay.
Glory struck 3 times before Canopus arrived.
Are they going to wind up the show?
| | |
| --- | --- |
| Page 1 | Page 3 |