The Young Philip Malet de Carteret

At 4.26pm on 31st May, 1916, a terrific explosion occurred on the British battle-cruiser, HMS Queen Mary, at the beginning of the greatest of modern sea battles of the 20th century - Jutland. One and a half minutes later, the ship sank with a complement of 1,266 officers and crew, of which there were 20 survivors. Philip Malet de Carteret was not one of them.

Born in Sydney, Australia on 23rd January, 1898, Philip was the eldest son of Jurat Reginald Malet de Carteret (1865-1935), Seigneur of St. Ouen's Manor in Jersey. He was educated at Ebor Preparatory School in Lausanne (1907) and Mr Rhodes' Mottingham and Eltham College, before entering RNC Osborne in 1911. He took first prize in French on leaving for RNC Dartmouth in 1913 to take his Midshipman's course.

His father, Reginald had left Jersey for Australia and en-route met and married there in 1895, Amy Anne Armstrong (1865-1950). Philip's younger brother, Guy was born in 1901 and an elder sister, Ella Marie (Ellie) had been born in 1896.

Philip was a keen sportsman. His 54 surviving letters written during the Great War constantly narrate sporting events - swimming, hockey matches and tennis. He wrote 37 letters to his father, 15 to Guy and 2 to Elizabeth (Grandma). 7 were written prior to 1914.
HMS Canopus

Canopus was at first patrolling in the North Atlantic, when she was ordered to assist the South Atlantic Battle Squadron of Admiral Sir Christopher GFM Cradock.

The ship arrived in Port Stanley on the 20th October. Cradock's squadron had already left in pursuit of the German squadron under the command of Vice-Admiral Count von Spee.

HMS Canopus

Canopus left for the Magellan straits on 23rd October to join the rest of the British squadron, which consisted of three old armoured cruisers, Good Hope (the flagship two 9.2 inch modern guns with a range of 13,500 yards and sixteen 6 inch guns), Monmouth (fourteen 6 inch guns) and Cornwall, two light cruisers, Glasgow (2 modern 6 inch and ten 4 inch guns) and Bristol, and the armed merchant cruisers Otranto, Macedonia and Orama.
Cradock's ships were far inferior in both firepower and age to von Spee's squadron which consisted of the two modern cruisers the Scharnhorst (twelve 8.2 inch guns with a range of 13,500 yards and also 5.9 inch guns with a range of 11,000 yards) and Gneisenau (twelve 8.2 inch guns) both of which had sailed from the China Sea to the South Pacific together with three light cruisers, the Leipzig (ten 4.1 inch guns with a range of 11,500 yards), Dresden and Nurnberg.
The German officers and crew numbered some 2,200. They were seasoned professionals in the main and had served together for over a year. The vast majority of the British crews on the other hand had been civilians less than six months previously.
The Battle Of Coronel
The Battle of Coronel, off the coast of Chile, took place on 1st November. Winston Churchill, the First Lord of the Admiralty was convinced that Cradock had orders not to engage the Germans without the protection of Canopus. However Canopus was slow and although she was steaming towards the British fleet at 15 knots, Cradock thought she was travelling at 12.5 knots. She had two colliers with her and at 6.18 pm Cradock increased his speed to 17 knots and radioed Canopus with a message "I am about to attack the enemy now"
At 7.04 pm the Germans opened fire at a range of 12,000 yards. The Scharnhorst hit the Good Hope with its third salvo and rendered the fore 9.2 inch gun useless. It continued to fire four salvoes a minute. By 7.23 pm the range was 6,600 yards. At 7.53 pm, the Good Hope was shattered by an explosion which produced a column of flame that rose over 200 feet above her decks.
Canopus had intercepted a message from Glasgow to the Good Hope reporting the enemy in sight. She increased to full speed and dispatched her colliers to Juan Fernandez and headed northwards in the hope that she would arrive in time to engage the enemy. At about 9.00 pm she received a signal from Glasgow that it was feared that the Good Hope and Monmouth were lost and the fleet scattered. Canopus turned around, picked up her colliers and made back for the Magellan Straits via Smyth's Channel, probably the first battleship to make use of them, a great navigational credit to her.
Cradock perished along with 1,600 men.
Rear-Admiral Stoddart was now in command in the South Atlantic, on the Carnarvon and he decided to go south to Montevideo to meet the remainder of the scattered fleet.
It was just before Coronel, that a great management change was taking place in the Navy. Prince Louis of Battenberg was being hounded out of office as First Sea Lord because he was German born. He had resigned on 29th October and was replaced by Lord Jackie Fisher, a formidable old gentleman who had been in the post from 1904-1910 and who had been in charge of the Navy overseeing its complete transformation into the greatest fleet in the world.
On the 6th November, Canopus was back in the Falklands but was ordered go to Montevideo but was called back and arrived in Port Stanley on 13th November. Canopus could not get a reply from the Wireless Station in Port Stanley and thought that the harbour had been captured by the Germans. The islanders thought that they were the enemy. The island had at that time a population of about 1,000, mainly Scottish crofters.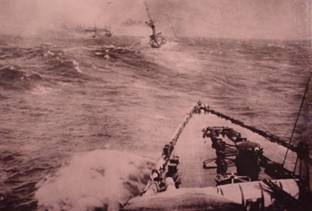 Admiral von Spee's Battle Squadron
26th November 1914

Finally, Canopus was ordered back to Port Stanley to act as guardship. Captain Grant took the ship through the outer bay and into the land locked harbour itself and finding that anchors and warps could not hold the ship, he grounded the ship so that her broadside could fire over a low neck of land and into the required beaten zone.
The upper decks of the ship were daubed with all colours of the rainbow, an observation and gunnery control post were set up, twelve-pounder guns were sent ashore and mounted in three batteries.

Letter to Reginald dated 4th December 1914 and published in "The Morning Post" of 21st January 1915

My Dear Dad,
I wish you a very happy Christmas! We are still in the Falkland Islands and are organising a proper defence in case the enemy meditate an attack. The only thing worth having is the Wireless Station, which is valuable to us as it is the only British Wireless Station in these parts.
You have doubtless seen in the papers all about the German armed merchantman Kaiser Wilhelm der Grosse being sunk by our cruiser Highflyer. Well we had been specially sent out to the North Sea to sink her, but before we got there, we found our work had been done for us by the Highflyer. We were frightfully sick.
Do you remember seeing about a midshipman on the Cressy who saved 87 lives (or thereabouts) including that of his commander, when the Cressy, Houge and Aboukir went down. His name was Cazalet. Well he was a chap in our term who had mobilised with us at Dartmouth. Of course we were very glad to see it although we were sorry to see the list of the drowned midshipmen whom were in our term also. Talking of drowned people, eight people were drowned here while crossing a creek in a punt three days ago. The punt capsized, and none of them could swim so they were all drowned. They were not men from the ship, but from the shore. They grappled, dredged and dived for their dead bodies and succeeded in recovering seven. I had to convey them to the Town in my boat. It was pretty ghastly work!
Although the Canopus seems to have taken but a small part in the war yet she has really done more than any other ship hereabouts, and a good deal more than most ships in the Navy, for although we have not fought an action, yet we have kept all the trade routes clear and unmolested and frightened away any marauding German armed merchantmen or cruisers, that might have been skulking around.
We have run the ship hard and fast on to the mud (on purpose) so it looks as if we were going to stay here till the end of the war - whenever that will be.
Our poor dilapidated engines have at least got a rest after tramping up and down the Atlantic and Pacific Oceans for weeks on end with scarcely an interval.
I hope everyone at home is quite fit and well
With love to all from your affectionate son
Philip
Lord Fisher acted swiftly. He ordered the immediate release of three battle-cruisers to serve in the Atlantic, two to go to the Falklands, Invincible and Inflexible, and one, the Princess Royal to the West Indies to guard the Panama Canal.
On 7th December the battle-cruisers arrived in Port Stanley with Vice-Admiral Sir Frederick Doveton Sturdee flying his flag in Invincible as Admiral of the Squadron. His mission was the annihilation of Von Spee's squadron.