Channel Islands women served in many different capacities in the islands, Britain and in or near various war zones. Here are a few examples:
The Women's Legion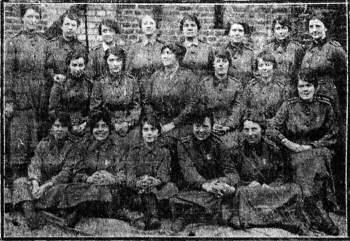 The Womens Legion was raised by Lady Londonderry, and first commenced duties on 3rd August 1915. Their initial task was to supply cooks to the New Army, but later they were employed on other tasks.
When the WAAC was formed in 1917 the cooking and General Services Sections enrolled in it, but the Motor Transport Section continued overseas until 1919.
"The group of girls depicted above belong to the Women's Legion, and went to France on May 5th 1917, in charge of Miss Campbell (seated in the centre of the second row). They were the first girls to cook for "Tommy" in France. Upon the left of Miss Campbell is Miss B. Hamblen, daughter of Mrs Hamblen of 4, Forest Lane. Before joining the Legion Miss Hamblen was employed in the bakehouse at Le Riche's Stores."